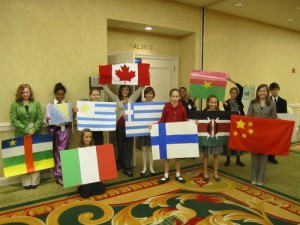 The 2011 Montessori Model United Nations Conference (MMUN) has drawn 1,500 4th grade to 9th grade students from around the world. The first day of the conference was designed to get students actively involved in the conference and engage them in an international experience from the beginning.
Click "Learn More" below to read about the conference!
Before the conference, Montessori students created displays of the countries they were going to represent, and those displays lined the halls outside opening ceremonies. One school in particular — the Newton Montessori School — created a 1/100th size replica of the UN!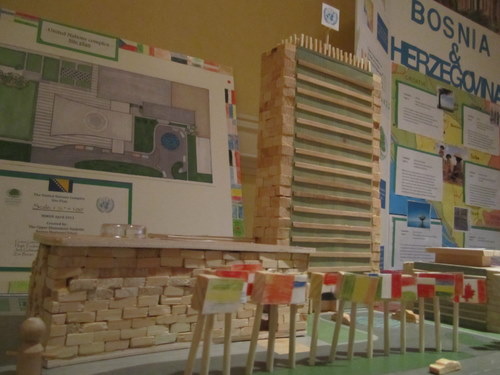 Opening ceremonies kicked off with a procession of the world's flags — made by students — and a performance of "Pledge Allegiance to the Earth" by the Roots and Wings Montessori School in British Columbia, Canada.
MMUN Executive Director Judith Cunningham hosted the ceremonies, with keynote speeches by Ambassador Francis Lorenzo of the Dominican Republic and Montessori School teacher Dr. Betsy Coe.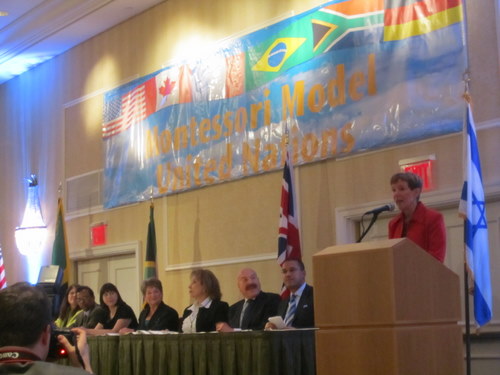 Throughout opening ceremonies, Judith recognized various countries and schools for their years of attendance and dedication to the conference. She gave special recognition to students from Japan, who said they could feel aftershocks during their ride to the airport.
And one student was brought up to the stage for designing the winning T-shirt in a contest hosted by the conference — it featured a map of the world as puzzle pieces, with the caption, "Puzzling out the World's Problems / Piece by Peace."
Click page 2 below to see more pictures of the conference!
Pages: 1 2