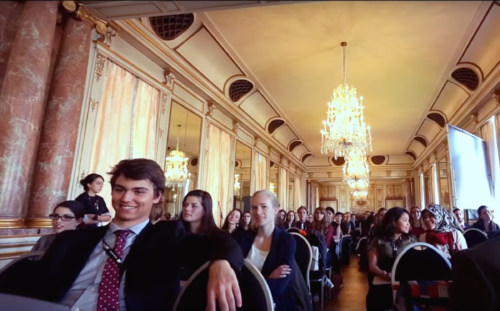 Model UN has an elitism problem…
.
It's both glaringly obvious and almost completely ignored. The students who participate overwhelmingly come from the wealthiest, most privileged parts of society: the sons and daughters of financiers, diplomats and civil servants. The schools and colleges that run large MUN clubs and conferences are mostly private. According to Best Delegate's 2015-16 rankings, just 9 of the top 25 North American teams are from public colleges. Speak to a typical delegate and the conversation will quickly turn to unpaid internships, Brooks Brothers and the relative merits of backpacking in Europe versus teaching English in South America. Why does it matter and how can we make MUN a little more equal?

The reasons are straightforward. Taking part in Model UN conferences is extremely costly. Conferences require delegates to travel long distances, often cross-country or even internationally. Transport, on its own, can costs hundreds of pounds/dollars/euros. Add in the cost of accommodation, conference fees and pocket money and the total cost of conference spirals. All in, even a modest conference, can set you back $400-500; some international conferences cost as much as $1500. This is prohibitive to all but a tiny, elite portion of high school and college students.
The implications are deeply concerning. In a time of increased populism and political polarisation, the need to reach across the political divide is greater than ever. Instead, MUN has degenerated into delegates lecturing equally privileged colleagues on the horrors of global inequality. Our calls for reform echo in cavernous hotel conferences centres. MUN allows bright and talented individuals feel like they are doing good, without doing very much at all. MUN is a fantastic educational activity but it can be overvalued: it is no substitute for the work of charities, NGOs and some governments in promoting peace, stability and prosperity across the world.
Moreover, the lack of "economic diversity" in MUN conferences acts to reinforce social "immobility". MUN experience looks great on a college or job application, giving those who participate in conferences a leg up over those who do not. MUN also offers excellent networking opportunities: every delegate is a potential classmate, colleague, or employer. By failing to make MUN more accessible, we are squandering valuable tools of social mobility.
What can we, as members of a global Model

UN community, do to tackle this issue?
1.
Firstly, we should encourage more MUN clubs and societies to run their own conferences, especially in under-served regions and countries. Improved "coverage" will reduce the need to travel long distances to participate in MUN. This process is already underway, particularly in regions outside of North America and Europe, which have seen an explosion in the number of new conferences over the past few years.
2.
Secondly, large conferences should devote some of their enormous budgets to sponsoring delegates or delegations who demonstrate the need for financial assistance. Some conferences already do this but there is scope for much more. Large conferences are not only the most able to provide means-tested financial assistance but their prestigious nature will bestow the greatest benefit on their chosen student(s).
3.
Finally, MUN clubs and societies that are wealthy enough (many are) should attempt to subsidise or sponsor their own delegates. University societies generally receive funding through membership fees, some receive money from their universities, and a lucky few get sponsorship from the private sector. Naturally, these budgets are more modest than those of large and prestigious conferences but are often not insignificant. This money should fund subsidised conference fees, travel and accommodation costs for a handful of needy delegates. Of course, there is always the risk of nepotism. But the university or school may be on hand to help with means-testing and allocating funding.

None of the proposed solutions will be enough to overcome the colossal economic inequality that exists within society or even MUN. But it is surely a start. As delegates, we often find ourselves urging others to act. When it comes to MUN itself, we are in a position to act: let's do so.