During Spring Break of my senior year of college, I traveled with the Yale Model UN team to China to attend the Asian International MUN Conference (AIMUN). It was an amazing trip and one of the fondest memories I have of college. That conference also meant a lot to me because it was my last one as a delegate.
What first struck me about MUN in China was its emphasis on formality and presentation. Opening ceremonies felt very…ceremonial. It featured speakers from Peking University and Beijing's diplomatic community, each of whom made very formal, written speeches, and the Secretariat made sure to thank each speaker with gifts. In committee, the rapporteur displayed on a projector screen detailed minutes listing every speaker and recording the results of every motion made. And in the middle of the first session, every committee went outside to have a professionally-taken photo.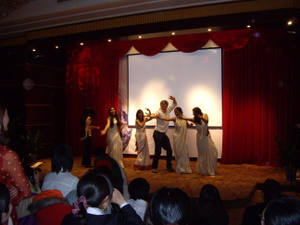 MUN in China also focused heavily on networking – not in a job-hunting sense, but in a let's-really-get-to-know-one-another sense. Every morning committee session featured a tea break, where delegates could snack and chat. Every evening featured an event intended not just for delegates to dance and party, but to meet one another and have a meaningful cultural exchange. Instead of an evening committee session on Thursday, as is normal for many 4-day conferences in the United States, the Secretariat held a semi-formal cocktail party. On the last night of the conference, the Secretariat organized a talent show showcasing the different countries and cultures in attendance. One delegate performed an ancient Chinese sword dance; a couple of delegates recited traditional Thai poetry; and delegates from Bangladesh riled up the crowd with a high-energy dance performance.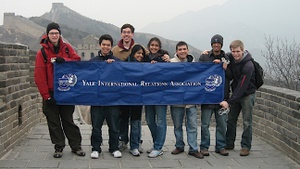 And there was something more meaningful about doing Model UN in China than in the US. On the last day of the conference, my committee went around the room to share what they had enjoyed most about the weekend. For some, it was practicing English; for others, it was debating interesting topics; but for all, it was just being able to meet and getting to know everyone. Everyone felt like they had invested themselves in the conference and they were genuinely sad to be leaving. There was a certain gravity to the moment, both personally and even politically.
My committee director put it best: "This conference would never have happened ten years ago." That made a few delegates and staff – particularly those who grew up in China – tear up a little. I had seen delegates cry over a heated debate or not getting an award, but I had never before seen anyone cry in committee because of a conference's very existence. That committee session gave me new perspective on what Model UN could mean – and it made me proud to be an MUNer.
Doing Model UN in China was one of the coolest experiences I've ever had in Model UN. Now, I'm excited to have the opportunity again to go back to China this August and visit WEMUN, the largest MUN conference in Asia!
Check out this page if you're interested in coming to China this Summer with Best Delegate!