This was a big week on the college circuit — thousands of college students were participating at the two National MUN conferences in New York and at the University of Chicago's ChoMUN conference, the last two conferences on the college circuit for this season. We have recaps below!
Conference Recaps
National Model United Nations (NMUN)
The National MUN Conference in New York is so big that it is actually comprised of two conferences! The conference draws thousands of college delegates from around the world and is the only collegiate conference that uses the United Nations facilities. We have liveblog coverage below:
NMUN gives out many Outstanding Delegation awards as well as Distinguished Delegation awards and Best Position Paper awards. They have historically posted up the full results — we will share those as soon as they are up. We do want to note that Florida International University impressively won Best Delegate in all 12 committees that they participated in.
Chicago Model United Nations (ChoMUN)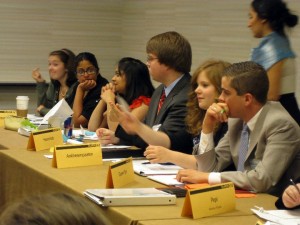 The University of Chicago hosted its ChoMUN college conference this past weekend. ChoMUN is billed as the world's most innovative all-crisis collegiate Model UN conference. We'll try to get a conference recap for next week, but in the meantime, here are the awards:
Best Large Delegation: Georgetown University
Outstanding Large Delegation: Harvard University
Best Small Delegation: New York University
Outstanding Small Delegation: Rutgers University
The University of Miami and Michigan State University also put in particularly strong performances with Miami having 14 of 16 delegates win and Michigan State having 12 of 14 delegates win. ChoMUN has traditionally posted up its full awards results and we'll link to that when it is up. In the meantime, you can check out some of the photo albums posted up on ChoMUN's Facebook page.
Conference Calendar
The college season may be over, but there is still plenty of action at the high school level. UC San Diego's Triton MUN is the first of three UC-hosted conferences in the next three weekends, and ThessISMUN is one of the larger high school conferences in Europe:
Triton Model United Nations (Triton MUN), San Diego, California, USA
Thessaloniki Model United Nations (ThessISMUN), Thessaloniki, Greece
Community News