Article was submitted by Elaine Song, one of the Vice Directors of the Community Outreach and Engagement Board of the International Affairs Association
Model UN is about more than parliamentary procedure and background guides. At its core, MUN is about education and preparing participants for success later in life. Over the past few years, the International Affairs Association (IAA) – Penn's umbrella organization that hosts conferences such as UPMUNC and ILMUNC – has been expanding its mandate as a "MUN Plus" club.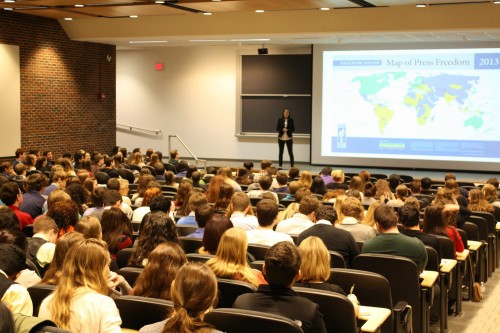 One particular example of this effort has been the Penn International Affairs Conference (PIRC) hosted by the Community, Outreach, and Engagement Branch of the IAA. As its name suggests, COE is the club's outreach and educational branch. Throughout the year, the branch visits local high schools and works with the students to learn about the politics, economics, and culture of a particular geographic region. Additionally, it also hosts PIRC, a free conference for these students to come and learn more about the region in particular.
PIRC is not a typical MUN conference – there are no country assignments or crises. Instead, students are grouped in executive committees of sorts and tasked with presenting a deliverable to all attendees at the end of the day. It is a forum of discussion where students are able to put the skills of negotiation, debate, compromise, and presentation to use.
This year, PIRC hosted approximately 300 kids on February 21st and 22nd on Penn's campus. The conference is region specific every year; this year the topic of study was Latin America. Executive committees were then based on five subtopics: The Drug Trade, Sustainable Tourism, The Amazon Forest at Risk, Violent Crime, and The Pacific Alliance vs. Mercosur. At the end of the conference, each group presented their findings on how to address these issues. The executive committees on violent crime and sustainable tourism were particularly laudable this year.
PIRC was a major success this year and represents the IAA's commitment to not only the competitive side of MUN but also its educational benefits. COE represents the IAA's larger mission of spreading awareness and interest in international affairs – a passion that we all share.
Here are some pictures from the conference!