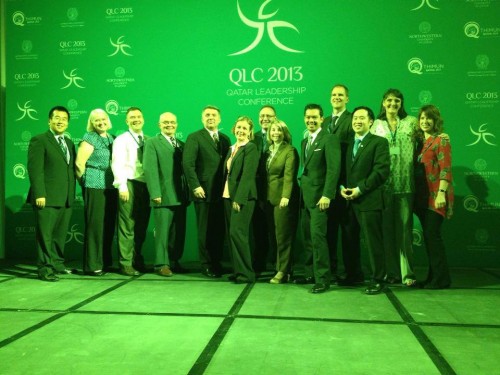 Over 300 students and educators from across the globe flocked to the second annual Qatar Leadership Conference last month for 3 days of presentations on Model United Nations, film making, and leadership. Kevin and I attended the conference and presented alongside dozens of student leaders and pioneering educators.
But the conference is not just about the presentations themselves and exchanging academic knowledge and information. The QLC is really about the people who presented and the opportunity that this conference gives them to share their stories.
It would be near-impossible to describe all of the eye-opening presenters and incredible stories from the conference in a single article, but for me, there were three people whom I met who captured the meaning of this conference and what made it such an impactful event on everyone who attended.
Kevin and I had the chance to meet David Williams, a bona fide legend in Model United Nations. David is the founder and former Chairman of the THIMUN Foundation, and co-author of one of the first books on MUN, Uniting the Nations through Model United Nations. At the conference, his keynote presentation was "Model UN is Not a Game," which piqued my interest; the idea of "gaming" and non-UN-related simulations has become a hop topic within the MUN community, especially after this summer's New York Times article on "The Dog-Eat-Dog World of Model UN."
I attended David's presentation and found it not so much a critique of current MUN practices, but a historical examination of how MUN (specifically THIMUN) used to be when David started advising MUN. David showed us video of delegates from THIMUN in the early 80s, with delegates dressed in costume; the delegate from Cuba, emulating Fidel Castro, wore fatigues and puffed on a cigar in committee! Delegates made seemingly random motions from the floor, and one delegate publicly defected in order to join another delegation.
Delegates had a lot of fun, but it did seem chaotic. As David explained, that's when THIMUN stated implementing more formal rules of procedure, and instituting dress code and other conference policies, in order to make MUN "more than a game" and elevate it into a truly educational activity. The presentation ended with video of THIMUN from the 2000s, with delegates in suits, following procedure, and being welcomed by then-Prince and now-King Willem-Alexander van Oranje of the Netherlands.
I came away from the presentation and from meeting David with not only a greater appreciation for THIMUN, but a deeper respect for the teachers and educators who loved Model United Nations before Kevin and I even attended our first conference. David and others saw the potential for Model UN, and they poured their hearts and souls into making it better and defining its purpose as an educational activity.
And, I received a pleasant surprise during David's presentation. The video featured an interview with a delegate attending THIMUN in the 1980s. When asked where she was from, she replied, "Mission Viejo" — she was from my high school!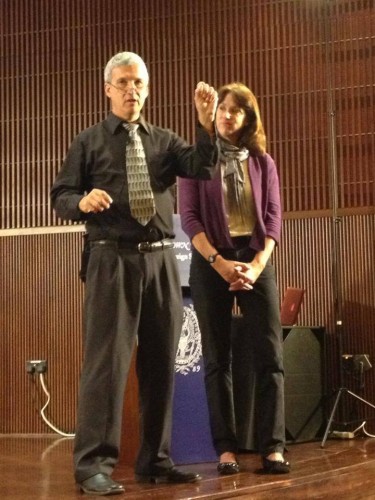 The QLC was an opportunity to meet one of the most incredible people I've ever met: Carl Wilkens. Carl was the only American to remain in Rwanda during the 1994 genocide. As the genocide unfolded, he was able to evacuate his wife, Teresa, and young children, but he stayed behind in order to save lives.
Carl gave a presentation to the entire conference, and I sat in the front row thinking how surreal it must have been, to be trapped at home as the horrors of the genocide unfolded around you, knowing that the wrong word or the wrong step could mean the end for yourself and those around you.
It was also incredible to hear Carl describe how he had to build relationships with those involved in the slaughter in order to save lives. And it was inspiring to hear him talk about Rwanda today with such hope, describing how far the country and the people have come, and the lessons that they hold for people around the world.
Check out Carl's website, World Outside My Shoes, to learn more about what it was like to be the only American to remain in Rwanda during the genocide.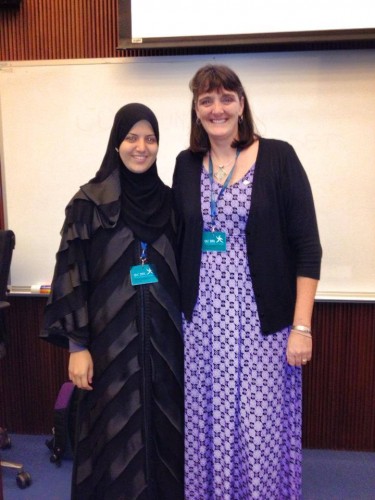 My favorite presentation of the weekend was given one of Kevin's and my own students, Salam Keadan. Salam serves as a student officer within THIMUN O-MUN; she was one of the members of the Online MUN delegation to THIMUN; and she attended the Best Delegate Summer Program at UC Berkeley with her brother. Salam is also a Palestinian living in Israel, and she gave a heart-rending presentation on what it feels like to lack a cultural identity.
In her presentation, Salam first described the difficulties of being both a Palestinian living in Israel. Although her and her families are Israeli citizens, they don't feel treated as equal citizens, and are constantly subjected to searches and questioning. Salam explained that Arab cities and communities exist in Israel, but they are constantly underfunded and underrepresented. As a student, she had to study under the Israeli education system, which does not take into account Palestinian history and perspectives.
Then, Salam described the difficulties of being an Israeli citizen visiting Palestine and other neighboring countries. She explained that Palestinians living in Israel are regarded as traitors by other Palestinians for not leaving Israel. When Salam and her family visit Palestine, they speak Arabic, but a slight accent gives away that they live in Israel. When they go shopping, shopkeepers recognize their accent and charge them higher prices. In addition, because Salam holds an Israeli passport, most neighboring countries will not let her enter, and she has to jump through a lot of hoops in order to travel.
My jaw dropped with every story that Salam shared, which made the audience and me realize the extent of her oppression as both an Israeli and a Palestinian, as someone caught between both cultures and accepted by neither. But the one thing that gives her a chance to share her story, that gives her a voice — that gives her a sense of identity — is Model United Nations. Through THIMUN O-MUN, she's able to interact with students across the region and around the world. Although their interaction starts anonymously, slowly she learns about other students and they learn about her, and she's able to get around the cultural and political barriers of the Israeli-Palestinian conflict, to share herself and tell her story, and be part of a larger community. And at Best Delegate Summer Programs, Salam told me, was the only time she felt like she could be herself around other students, where she was seen as a fellow student with her own unique background and experience and story, where she also felt part of a community.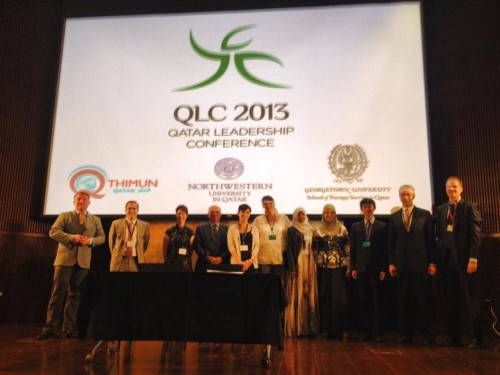 The QLC was a wonderful experience that truly encompassed the meaning of leadership on many different levels, from building lasting educational institutions, to holding onto hope in the face of horror, and having the courage to share your story and finding your identity within a community.
Thank you to Secretary-General Jamal Al Ani and his team of student leaders, Head of THIMUN Qatar Cameron Janzen and Conference Coordinator Ann Rogers, and all the presenters and participants on a great conference. Also thank you to conference hosts Northwestern University in Qatar and the Georgetown School of Foreign Service in Qatar.
Kevin and I hope to see you all next year — inshallah!
Click here for more pictures from the QLC!