This recap article and the accompanying photos were provided by Ryan Mitton, the Secretary-General of the McGill Model United Nations Assembly 2015. 
At the beginning of 2015 and the winter semester of the Model UN Circuit, over 1500 delegates converged on the historic city of Montréal, Québec, to partake in the 26th McGill Model United Nations Assembly (McMUN). This year's conference sought to establish greater connections between delegates in the Model United Nations community and to continue McMUN's legacy of being a leader of innovation when it comes to Model UN.
Opening the conference was this year's keynote speaker, Dr. Payam Akhavan of McGill University. At age 26, Professor Akhavan became the youngest-ever Human Rights Rapporteur, appointed by the European Community (now the EU). He served in the field with the UN in Bosnia, Croatia, Cambodia, Guatemala, Rwanda, and Timor Leste, uncovering human rights abuses and providing reports and policy recommendations. From 1994-2000, Professor Akhavan served as the first Legal Advisor to the Prosecutor's Office of the International Criminal Tribunal for the former Yugoslavia and Rwanda at The Hague and was a Human Rights Officer for the UN Centre for Human Rights.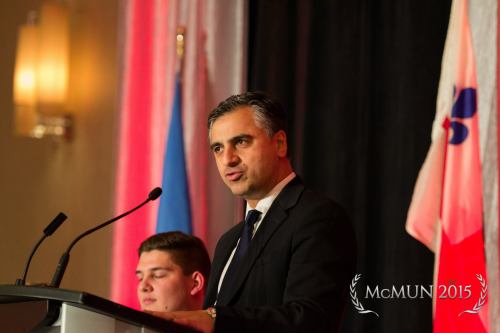 A former Model UN delegate himself, Dr. Akhavan's speech began with several humorous points about life in Model UN, but quickly turned serious as he shared moving stories of the tragedies of his work and the atrocities he witnessed. Dr. Akhavan argued that by hiding behind words and rhetoric, we lose touch with the human impact of so many international decisions. It was on that note that the delegates began their weekend implored to replace the often-touted cynicism of international politics with compassion and empathy for others.
Following Opening Ceremonies, General Assembly delegates were treated to the second annual Global Leadership Forum. Dr. Mark Brawley of McGill University moderated a panel that included Christian Kastrop of the Organisation for Economic Co-operation and Development (OECD), Ajay Markanday of the Food and Agriculture Organization (FAO), and Dr. Ken Lester of McGill's Investment Management program. These experts discussed and fielded audience questions on topics related to the legacies of Structural Adjustment Policy, international development, and current problems of economics and trade.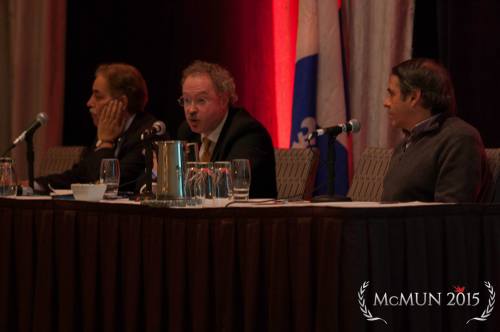 As the weekend moved into full-swing, delegates dove into the 27 committees that would constitute a weekend of competition, cooperation, and compromise. As a traditional committee at McMUN, this year's International Criminal Court (ICC) probed the 2011 conflict in Libya. Two cases were tried, the first being that of Saif al-Islam Gaddafi, son of deceased former dictator Muammar Gaddafi, and the second being the head of the United Kingdom's Trade and Investment Defense and Security Organization, who stood accused of violating laws against communicating with arms dealers then engaged in exporting weapons to the Gaddafi regime. This year's committee was particularly dynamic, with delegates being able to find evidence and submit it for discovery prior to the trial. As such, delegates not only focused on a verdict, but engaged in dynamic research and debate in an evolving case with each piece of newfound evidence.
As another Model UN staple, McMUN 2015's Ad Hoc Committee of the Secretary General saw experienced delegates come together to compete in a thrilling crisis. This year's Ad Hoc was based on a fictional organization known only as The Ellery Group. Composed of 15 individuals including businessmen, politicians, and government officials, the combined influence of this group had the power to dominate America and establish a New World Order. The always-unanticipated series of events saw delegates institute a puppet president, push legislation favourable to the organization, and work together to become the most powerful and influential collective in the world as America and its citizens unknowingly stood by.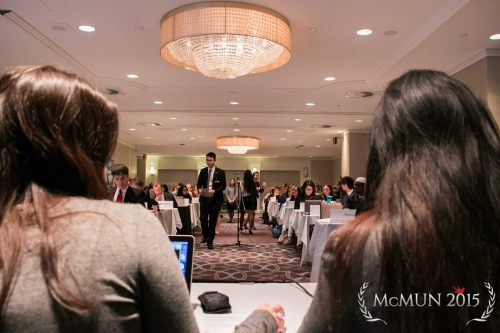 Evening activities included a revamped pub crawl with record attendance on Friday night. Delegates received the true McGill pub crawl experience as they explored the wonders of downtown Montreal's nightlife, finishing off at Crescent Street's infamous Jet Club. And as always, McMUN's one-and-only McParté was a smash hit with over 2000 delegates and McMUN staff in attendance. Music was proudly provided by local artists DJ Shibuya and DJ DK.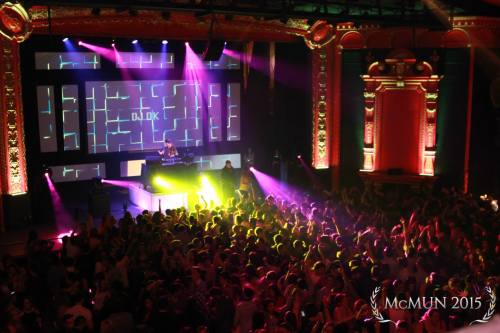 Lastly, a special congratulations to this year's universities who were recipients of delegation awards:
Best Large Delegation: Georgetown University
Best Small Delegation: Harvard University
Outstanding Large Delegation: University of Chicago
Outstanding Small Delegation: United States Military Academy at West Point
As we begin preparing for next year, McMUN would like to thank its attendees for their competitive drive and diplomatic spirit. We look forward to continuing to host the perfect mixture of competition and Montréal spirit for years to come.