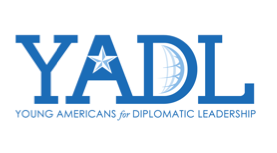 Young Americans for Diplomatic Leadership (YADL) empowers current and future diplomatic leaders of the United States through global programs that provide access and exposure to foreign policy. YADL is proud to announce the recruitment process to select the team that will represent the United States of America at the Y8 in London, United Kingdom June 24-28 2013.
The Y8 is a civil society summit that convenes students and young professionals from the G8 countries for one week each year to develop policy solutions to current global challenges. Delegates assume roles while representing their countries and adopt the consensus-based methods of negotiation used by the G8.
YADL is seeking young people between the ages of 18 and 30 with strong communication skills and a passion for global issues. Students and young professionals interested in international affairs and diplomacy, as well as a broad range of policy areas, are encouraged to apply for the delegation.
The following positions are available: president, secretary of state, secretary of defense, attorney general, USAID administrator, EPA administrator, chief of staff, and press secretary. More information about the positions, selection process, and the application are available here. The deadline to apply is January 25, 2013 at 11:59pm EST.
To learn more about YADL or the Y8, please visit www.yadlusa.org. Questions can be emailed to applications@nullyadlusa.org.