Since it's inception in 1999, Rotary Indian International Model United Nations (RIIMUN) has been setting the standards for what one may consider an ideal level of both organization as well debate in Model UN. It is common knowledge that there are far too many MUNs in India and losing your identity in such an environment is not that difficult. However, 15 years down the line, RIIMUN, which is simulated every year in Pune, continues to dazzle, inspire and teach young minds about global issues and ways to tackle them through formal debate and diplomacy.
Every year, prospective delegates look forward to this academic simulation with a lot of enthusiasm and zest, as the quality of debate as well as organization is worth emulating, not only at the national level but also the international level. That is evident from the fact that the Secretariat of RIIMUN receives hundreds of application from delegates who don't reside in India. Through Model UN, Rotary International is quite literally acting on the motto it endorses – "Engage Rotary – Change Lives". What stands out the most about RIIMUN is the fact that such a magnificent MUN is not only a hub for the masters of the trade but also a platform for budding enthusiasts to show their potential and knowledge on international relations.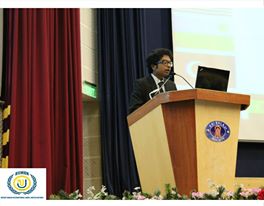 The following committees, along with their agendas, were simulated over a 3 day period (10-12th January) at RIIMUN:
1) General Assembly
The Right to Internet – Scope and Limitations
International Cooperation to prevent and resolve Warfare
2) Economic and Social Council
Social, Cultural and Economic ramifications of Corruption on Economic Growth in the changing Global Scenario
Promoting efforts to eliminate violence against migrants, migrant workers and their families
3) United Nations Human Rights Council
The Rights of LGBT : Focusing on the violations of the rights of LGBT people, including hate crime, criminalization of homosexuality and discrimination
Freedom of Expression and Respect for Religious Beliefs
4) United Nations Security Council
The situation in Syria
The conflict between Iran and Israel
5) United Nations Development Programme
Role of religious education in fostering inclusive development
6) United Nations Commission on the Status of Women
Rights of Women against Violence, Legal and Cultural deprivation with particular reference to women of the Islamic fraternity
7) International Press
The turnout for the MUN was very good, it being over 80% for every committee. This is very significant because often due to various constraints, in spite of registering and being allotted countries, a large number of delegates are not able to make it conferences. Obviously, the name RIIMUN itself serves as enough incentive to make an appearance in your best formal attire and debate on the impending issues presented by the Executive Board and make a name for yourself on the munning circuit.
The Secretariat also introduced another dimension to the conference when they included a joint General Assembly plenary crisis that required delegates of the same country in different committees to work in tandem in order to find a suitable answer to the problem thrown at them. It was a mixture of euphoria and befuddlement as delegates were abruptly flung into a crisis situation. However, after the initial chaos, delegates began working as well-oiled units trying to find a solution while taking their different perspectives into proper consideration. This crisis gave all the delegates something to think about and act on outside the normal framework of formal debate.
The closing ceremony was like a feast, delegates having being satisfied with the effort they had put into multiple talks of deliberation and diplomacy and now in the mood to celebrate their hard work. Several awards were handed out to those delegates that stood out in their committees. Furthermore, awards were also given out for the best delegations (not handed out very often in Indian Model UNs). Symbiosis Law School, Pune won the Best Institutional Delegation and National Defence Academy won the Best Institutional Delegation Runner-Up.
On the whole, very few MUNs in India would qualify as international MUNs, if we consider an exemplary level of organization and debate as parameters to categorize them like that. RIIMUN definitely fulfills these criteria and has once again  delivered a high quality conference worthy of emulation. Here's looking forward to an even more immaculately planned RIIMUN 2015.