Saint Andrews' annual Model United Nations Conference was held over the 17th– 19th of October. It was its second international conference, and delegates from all over the world visited the tiny Scottish town. This year SaintMUN welcomed 127 delegates from all around the world, including Russia, Nigeria, and Singapore; the Secretary General, Lewis Fairfax, definitely coordinated a weekend that gave participants 'the incredible opportunity to mix with people from all corners of the globe.'
SaintMUN had six innovative committees: the World Bank, European Commission, AdHoc committee of Intelligence Agencies, St Andrews News Agency, the Joint Cabinet Crisis and the Social, Cultural and Humanitarian Affairs Committee. These committees were selected to ensure all delegates had a unique experience and gained something new from MUN. All the delegates gave glowing feedback, many of whom were returning delegates from SaintMUN's first edition! Chairs led delegates through complex topics, from the digital union to private equity development for the least developed countries in the world.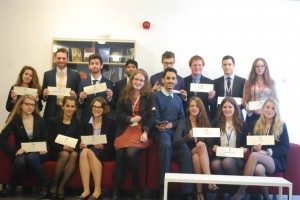 The Secretariat had great fun planning and preparing these topics and the conference as a whole. St Andrews is a beautiful town and they felt privileged to have such amazing venues to work with. The opening and closing ceremonies were held in the historic Parliament Hall, where local St Andrews talent performed, including one of its famous Acapella groups. Attendees were honored with a talk from Sir Menzies Campbell MP, who spoke about the role of the UN in contemporary international society.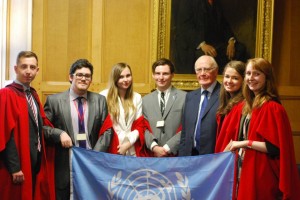 MUN is not all serious, though, and delegates were treated to some fantastic socials: from the club night on Friday to the Venetian-themed ball on Saturday. The USG for Socials, Kaitlyn Salter, said that she hoped 'the socials would be a great way for the delegates to kick back and unwind after an intense day in committee. I am extremely excited to see everyone in their best masks during the ball –it will add a sense of mystery!"
Kaitlyn was entirely successful, as she went all out on décor and entertainment from feathered masks to a surprise performance of ballroom and Latin dancers. To get the ball rolling, committee dinners were planned, where haggis was served to unsuspecting delegates to ensure an authentic Scottish experience.
One delegate, John Weaver, commented that "SaintMUN attracted delegates from around the world. It was a great experience for all involved, with discussions about real-world issues.''
Max Wirka, the President of the MUN Committee, said "MUN is all things to all people, combining elements of the academic, social, and professional for an enjoyable, interdisciplinary, educational experience."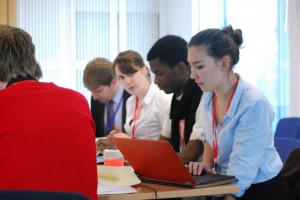 The conference was a brilliant weekend and the delegate's enjoyment was clear from the positive feedback we received. At its heart, Model United Nations is a weekend of dancing, drinking and debating – and SaintMUN made sure to provide all of that!
Article and pictures courtesy of Joanna Boon, Under Secretary General of Finance and Outreach at Saint Andrews Model United Nations