* This guest article was written by Vivek Ramachandran, a freshman at USC studying Computer Science and Business Administration. Vivek served as a USG of Assemblies for the conference.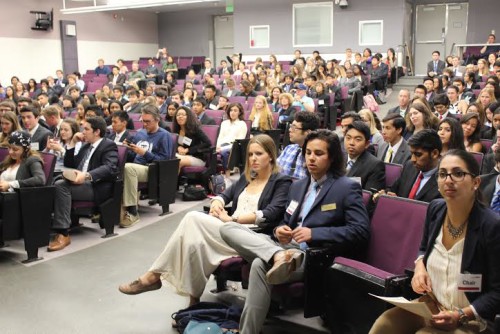 From April 22-24, over 250 delegates descended on the University of Southern California campus to experience SCMUN 2016. This year marked a stage of rapid growth for the SCMUN team, boasting 15 committees, five of which were crisis committees. Other notable committees included the 1927 Academy, carefully crafted by students of the legendary USC School of Cinematic Arts, to a realistic World Bank, where voting rights were distributed proportionally to donation amounts.
The opening ceremonies set the tone for the weekend delegates were soon to enjoy. With a beautiful video showcasing USC's campus and
a wonderful keynote speech by Professor Steven L. Lamy, delegates were enthralled with the committees offered SCMUN 2016. As Professor Lamy eloquently stated "optimism is necessary to keep us striving for the right things." With this in mind, delegates took to debate late Friday evening.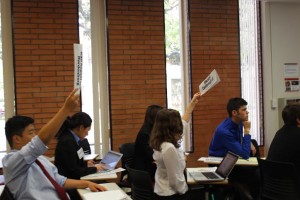 Behind the scenes, Secretary-General Alexander Melnik and Chief Executive Shelley Dai coordinated the entire Secretariat team to ensure that each of the 15 committees had all of their materials ready to go from the moment the delegates stepped inside their committee rooms. With unique crises such as the Peloponnesian War, to more traditional committees such as DISEC, delegates of all skill levels were able to find something that suited their interest. SCMUN carefully crafts its committees to both promote realism and to foster an environment of strong debate. With small committee sizes and knowledgeable chairs, every delegate had the chance to improve their MUN skills and vociferously defend their country's stance on controversial topics.
Outside of committee, delegates were treated to campus tours by members of the USC team. Unlike most collegiate teams, the USC team boasts members from a variety of majors, from film, to engineering, to international relations. Groups were given tours tailored to their future interests and they were able to learn about the many opportunities available at USC. That same day, advisers were treated to a free workshop hosted by Best Delegate. Kevin Chan, a co-founder, discussed the role of technology in conferences, research techniques, and other aspects of MUN. Concluding the day's events on Saturday, delegates gathered for a movie night in Pardee Lawn. With free frozen yogurt, Ferris Bueller's Day Off, and good company, what more could you ask for?
The immersive experience came to an end Sunday afternoon, where Secretary-General Melnik recognized the outreach efforts of the SCMUN team. By partnering with the City of Los Angeles' Youth Ambassadors program, SCMUN introduced 7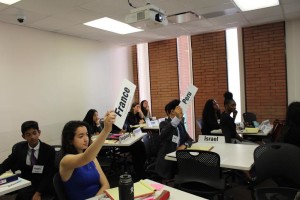 new high schools to Model UN, and 10 students from these schools were able to partake in the 2016 event. Moving forward, SCMUN hopes to work off of its solid foundation from this year to attract even more delegates and offer a more competitive conference atmosphere.
Best Delegation: Palos Verdes Peninsula (Rolling Hills Estates, CA)
Outstanding Delegation: Bellarmine Preparatory School (Tacoma, WA)