The Best Delegate team believes that Model UN participants want to make a difference in our world. We understand that getting into college will help take you there and we want to show you how Model UN can help you get into college.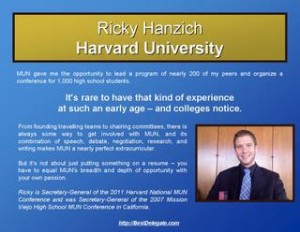 Here are two insights from Ryan Villanueva and others who have successfully used Model UN to get into college plus our free E-Book, "How Model UN Can Help You Get into College":
Ryan on How Model United Nations Can Help You Get into College
How Model UN Helped Me Get into Yale
Free E-Book! "How Model UN Can Help You Get into College"
Here are two more tips on how to approach the college applications process plus Kevin Felix Chan's CCCMUN speech on what MUN means to him and how it helped him manage the college admissions process:
10 Tips to Write Your College Application Essay
5 Ways to Show Leadership in Model UN
Interested in having a college admissions consultant review your applications? Email us at ryan@nullbestdelegate.com to learn more!
Good luck to everyone who is applying to college this year!