Hello, dear reader!
My name is Yau Hui Min, am currently studying in Monash University Malaysia and it is my pleasure to serve you as Media Chair of  Asia University.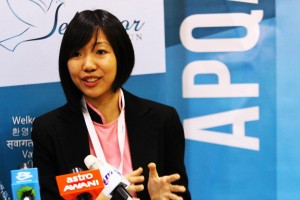 One among many.
This phrase echoed in my mind as I listened to the Asia Pacific Under-Secretary-General during our first Regional Meeting of Model UN leaders. This thought struck me with humility, awe, fear and inspiration all at once.  I am humbled by the fact that I am just one among all these 'superstars' (am I even one? haha) but at the same time I am inspired by our unspoken solidarity to serve the larger Model UN community. It did not matter that we came from four different time zones/regions , what mattered was that we shared a common history of instigating change.
Why I have continued Model UN for the last eight years is because of the impact I saw it create on people and how it  changed the way I see education . It became a tool to empower, discover and nurture talent. The process itself of witnessing a 14 year-old serve as Secretary-General of one of Malaysia's largest conferences (independent and fully youth-run to boot!) and working with  a regional team was an education I would otherwise never have received in school. Moreover, I want to give back what I have been given.
In the country where I come from, Malaysia, I also represent a developing Model UN community where Model UN is still considered a rare and expensive privilege concentrated in the capital. I believe Model UN should be a commodity as commonplace as schools. However, developing a sustainable Model UN ecosystem such as the ones in the West is a complex challenge that will take years if not decades. I know Malaysia is not alone in this, as Model UN gets introduced to more and more countries. Therefore, in my columns I hope to investigate how we can better develop new communities.
Lastly, I want to end this messaged with a quote.
I asked my USG what is his personal vision is for Model UN at Best Delegate. He said, "I want Model UN to build a learning curve into the real world." Has Model UN taught you important life skills? Catch me discussing this in my next article!
If you ever have any questions, concerns, or ideas for articles, feel free to email me at huimin@nullbestdelegate.com. I am especially interested connecting with student leaders and teachers who are passionate about building new MUN communities through workshops and conferences in developing countries.
Thank You,
Hui Min
BD Media Chair of Asia University