The World Federation of the United Nations (WFUNA) and Best Delegate will be hosting the WFUNA Youth Camp Korea. This is an official call for registration from WFUNA.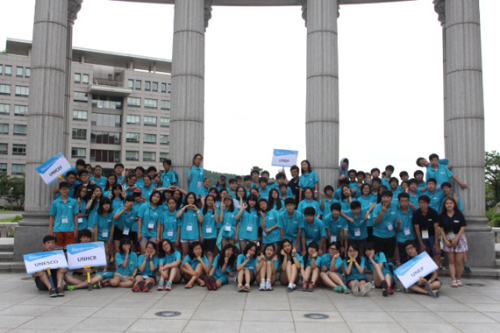 The WFUNA Seoul Project office in partnerships with UNAI (UN Academic Impact), Best Delegate and Hope to the Future is hosting an educational youth camp, 'WFUNA Youth Camp: Korea Winter 2015', at Hanyang University ERICA Campus.
The 4th Youth Camp will be held for a week from January 19th to 25th 2015 to encourage youth participants to raise awareness of and respond to global issues.
This year's Youth Camp will challenge the subject of Sustainable Development Goals (SDGs). Under the UN4MUN: Rules of Procedure, youth participants will explore the multiple perspectives and challenges world leaders face when approaching global issues. With workshops, lectures and programs planned by world renowned Model UN professionals, the Camp will also invite officials from United Nations: New York and Geneva for interactive lectures and workshops.
Students from grade 5 to grade 12 can participate through online registration at official WFUNA Seoul website, (www.wfuna.org/korea) until December 19th, 2015. Every participant will be given a certificate of completion, and outstanding students will be given special awards by Secretary General of WFUNA, Ansan City and Hanyang University.
A camp staff quoted "There is a rising interest in youth for global issues" and "that this program will be a valuable experience for students to engage in global issues with a proactive and global citizenship mindset."