This recap was provided by Sereen Thahir, Secretary General of VICS XVIII.
The eighteenth Virginia International Crisis Simulation (VICS XVIII), started on March 28th at the grounds of the University of Virginia. This year, VICS tied their charity, the International Rescue Committee, with their opening ceremony speaker. Ms. Harriet Kuhr, the executive director of the IRC in Charlottesville, VA, spoke about the realities of refugees relocating to the United States and the work the organization does in order to provide support for the over 2000 individuals who have relocated to the city since 1998. Her speech was followed by an engaging question and answer session where delegates were free to ask about policy and other aspects regarding refugee relocation. Donations and merchandise profits from the weekend will directly go towards the IRC's programs in Charlottesville related to issues such as education, economic empowerment, integration, and health and wellness.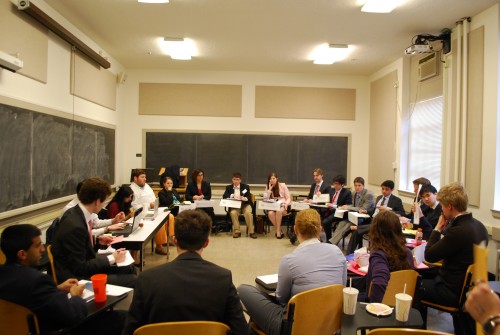 VICS again continued its motto of 'work hard, play hard' throughout the weekend with its wide-ranging committees as well as the various social events. Head Delegates were given the chance to mingle at both the soiree as well as a competitive social, where the head delegate from George Mason University, Patrick Gooley, prevailed in a spirited contest. The weekend's social events concluded with the infamous Fraternity Simulation, where delegates were able to experience Greek life at its finest.
Committees this year were varied: historical committees such as the 2nd Punic War or the 1979 Sri Lankan Cabinet of Ministers to modern ones focusing on Syrian Humanitarian Assistance or the Politburo Standing Committee of the Chinese Communist Party. Delegates and chairs also indulged in the Hindu epic based Ramayana committee as well as a clash between the North and South in a Game of Thrones joint crisis.
Awards
Best Large Delegation: The University of Pennsylvania
Best Small Delegation: New York University
Best Head Delegate (given to the Head Delegate who makes the Charge d'Affaires job the easiest and whose passion and enjoyment of VICS is undeniable): Rahul Lakhani from the University of North Carolina- Chapel Hill.
The Spirit of VICS Award: Pritika Gupta from Emory University.
Given to the delegate who most exemplifies the Spirit of VICS. This award is not necessarily about being the best delegate in committee, but about being the delegate who reaches out to other delegates as well as conference staff, making VICS a worthwhile experience. This award, given out in memory of Brian I. Gomez, was given out for the second time.