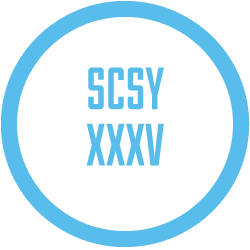 This invitation letter was provided by SCSY Director-General Sophia Clementi.
For the past 34 years, the Security Council Simulation at Yale has been the premier crisis-based Model United Nations conference on the college circuit. To say that this year's SCSY, held at Yale's campus on October 4th-7th, will provide an incomparable delegate experience is no understatement. This year SCSY will raise the bar by providing a conference that is not only of the highest quality and level of professionalism, but also dedicated to novel topics and fast-paced, innovative crises.
Click here to register for SCSY!
The result is a Model United Nations conference unlike any other. SCSY's small and crisis-based committees provide you with a unique environment to collaborate and devise creative solutions, as delegates immerse themselves in complex contemporary and historical issues. Historic, Traditional, Innovative, Fictional – the broad range of committees offered at SCSY make it one of the most diverse conferences on the circuit. Whether delegates are plotting economic domination alongside Andrew Carnegie, JP Morgan, and Henry Clay Frick in "Steel City Empire", plotting overthrow in "The Syrian Revolution", or inventing strategy in "Republican National Committee – 2012 Elections", they will be immersed in exhilarating simulations of historical and contemporary international conditions. Reaching far beyond the traditional bounds of Model UN, we draw upon the most passionate and talented members of Yale's undergraduate community to offer committees in their respective fields of expertise.
Unlike committees at other college conferences, ours are feature the crisis model, in which delegates respond to unforeseen fictional events. Articles, twitter blasts, breaking news videos, in-person visitors are several of the many ways in which SCSY introduces delegates to the complex problems each delegate must solve. A large and dedicated crisis staff works around the clock to respond to the decisions of the delegates. The fast-paced nature of SCSY committees pushes delegates to the limits of cooperation, adaptability, and creativity.
SCSY is hosted entirely on Yale's campus. Besides its beautiful campus, Yale offers a multitude of professional resources for our delegates. Delegates have the opportunity to meet Yale professors with relevant expertise over meals or during committee sessions.
After a long day averting disasters and working through conflicts, delegates relax and enjoy getting to know one another at SCSY's acclaimed late-night events. Both the SCSY lounge night and SCSY club night have been deemed among the best MUN social events on the circuit.
Registration for the 35th annual session of the Security Council Simulation at Yale (SCSY) has officially opened. Over four days, delegates will engage in fascinating debate, meet students from more than thirty national and international universities, and unwind at our lounge and club nights. Don't miss out on this one-of-a-kind conference.
Click here to register for SCSY!