Model UN Teachers, Advisors, and Parents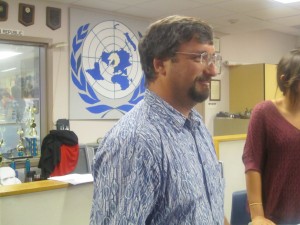 This page contacts Best Delegate articles geared towards Model UN teachers, advisors, and parents.
Do you have Model UN questions for other teachers, advisors, and parents?
Click here to visit our Advisors Lounge Model UN Forum
How to Teach Model UN series
How to Build a Top Model UN Travel Team series
Selected Reading from the Strategy page
Trends and Analysis
Preparation and Training
Model UN Teachers in the News
Best Delegate Training
Group Workshops for Teams
Are you a new Model UN club that wants help getting started? Or is your team ready to compete for delegation awards? Best Delegate offers workshops for small groups and entire teams. In addition to helping your team learn the skills and knowledge to succeed at your next conference, we will leave you with exercises and tips so that you can keep training your members for the future. Group workshops can be conducted live or over Skype. Email info@nullbestdelegate.com for group workshop rates and scheduling.
Free Training for Teachers
What conferences should you attend? How should you prepare your students? How can you use Model UN in the classroom? Navigating the Model UN world can be difficult, but Best Delegate is here to help. We provide free training sessions over phone or Skype, and we can meet in person if we're in the area. Email info@nullbestdelegate.com to schedule your session.
Consulting for Educational Institutions
We consult for schools, non-profits, MUN conferences, and other educational institutions that want to get started with Model UN or take their existing Model UN program to the next level. We can help design curriculum, create training materials, provide startup and organizing advice, and conduct chair training workshops. Email info@nullbestdelegate.comto see how we can help you.