Model UN Strategy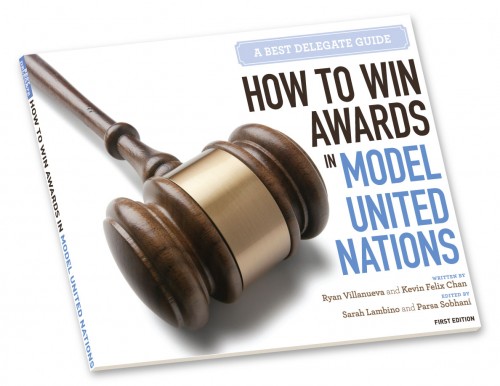 If you're new to Best Delegate, check out our most popular articles! They're sorted into five categories:
Delegate Strategies
Teachers & Club Leaders
Conference Organizers
Trends & Analysis
College Admissions.
Interested in winning awards? Click here to learn about our Best Delegate Guide: How to Win Awards in Model United Nations
Do you have any questions about Model UN? Click here to visit the Model UN Forums
Delegate Strategies
Basic Foundations
Research
Speech
Caucus
Resolutions
Etiquette and Fashion
Advanced Strategies
Note: Crisis Committee articles are listed under "Conference Organizers"
Teachers and Club Leaders
How to Teach Model UN series
How to Build a Top Model UN Travel Team series
Conference Organizers
Conference Organizing
Crisis Committees
Trends and Analysis
College Admissions
How Model UN Can Help You Get Into College series
**
Best Delegate Coaching
Private Coaching for Individuals
Are you new to Model UN and looking for a way to get started? Or do you want to sharpen your Model UN skills and learn the best strategies to win awards? Best Delegate teaches students Model UN basics such as research and resolution writing to more advanced public speaking and negotiation skills. We provide private coaching in-person in Southern California and the East Coast, as well as over the phone and on Skype. Email info@nullbestdelegate.com for private coaching rates.
Group Workshops for Teams
Are you a new Model UN club that wants help getting started? Or is your team ready to compete for delegation awards? Best Delegate offers workshops for small groups and entire teams. In addition to helping your team learn the skills and knowledge to succeed at your next conference, we will leave you with exercises and tips so that you can keep training your members for the future. Group workshops can be conducted live or over Skype. Email info@nullbestdelegate.com for group workshop rates and scheduling.